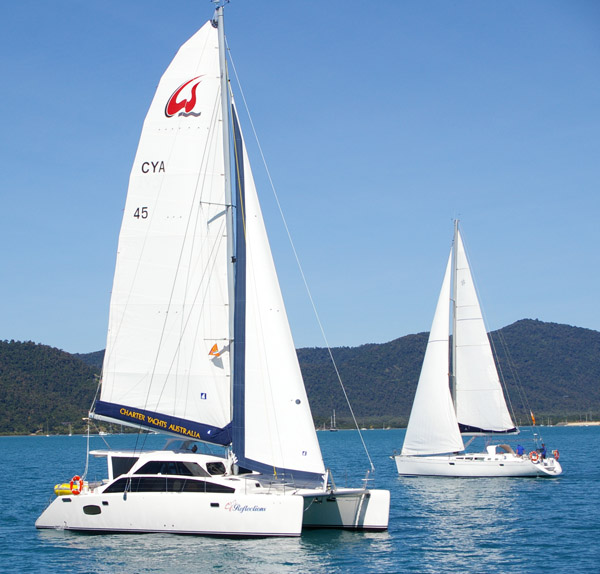 Monohulls
Charter Yachts Australia has a fleet of modern yachts which have been designed to make sailing as easy as possible. All lines lead back to the cockpit, allowing the yachts to be crewed by two people quite easily.
When you sail one of our yachts you will experience the exhilarating feeling of traditional sailing with the wind in you face as your glide past Tropical Islands.
Test your skills on the helm, sailing as close to the wind as possible and adjusting for each wave and gust of wind. You will be "living life on the edge" leaning the boat over till the rail touches the water. Of course you can take pity on your crew and sail gently downwind.
All our yachts are fitted with gimbaled stoves, so for the die-hard sailors baking that fresh loaf of bread or cooking a hot meal for the skipper is possible, although most would prefer a BBQ at anchor.
Monohulls will tilt (heel) to one side while sailing due to their v-shaped hull. Keep in mind that crew have to factor this in when sailing and everyone needs to be mindful of other crew when moving around on deck and when under sail. Monohulls will sail closer to the wind than a catamaran and catamarans can sometimes be difficult to tack.
Because of their keels, monohulls extend deep below the surface of the water – sometimes two metres. This makes them more prone to hitting the sea bed or coral outcrops, an event whose impact can range from embarrassing to catastrophic.
Browse our Fleet of Sailing Yachts
Catamarans
Are much more stable than monohulls as they don't heel or lean over. This can be a bonus for families, people with restricted mobility or large groups. They are also much more stable at anchor with a more fluid movement.
Catamarans are much wider than mono-hulls and therefore provide enormous aft cockpits which follow through to the saloon area. In the Whitsunday tropical climate this is an enormous plus because charterers tend to spend the majority of their time in the cockpit, dining, reading and relaxing. This makes entertaining a breeze.
In general Catamarans also offer bigger refrigeration and freezer space allowing you to provision for a week or more. Cooking is much easier on a Catamaran underway and more pleasant as you are looking out to the view and not "down below." Most Catamarans do not have gimbaled stoves and ovens because they don't need them.
Catamarans can offer more privacy than monohulls as the twin hulls, and the cabins and heads within them are far away from each other.
Catamarans will sail very quickly on a reach, the disadvantage is they won't sail to windward like a monohull, so you sail a great distance to arrive at your destination but at a much higher speed.
Catamarans are much wider than monohulls making them more susceptible to windage in gusty conditions, possibly causing problems when picking up moorings, anchoring and berthing. More to the point, a catamaran lacks a deep keel to prevent leeway – watch where you have been as well as where you are going.
Catamarans have small keels, propellers and rudders under the water which will still be damaged by impact with the sea bed.
Browse our Fleet of Sailing Catamarans
…So the choice is yours, and usually depends on your preference. Both types of boats have advantages and disadvantages, but both will give you an unforgettable holiday.