Whitsunday Anchorage Guide
Distance Guide (approx, nautical miles) From Abell Point to: Nara/Macona 13nm, Hayman Island 15nm, Hamilton Marina 16nm, Whitehaven 30nm, Cid Harbour 14nm, South Molle 9nm.
To estimate travel times: cruising under motor speed around 5kts (nautical miles per hour) allow extra time to anchor / pickup a mooring. e.g. Abell Point to Cid Harbour approx 3 hours under motor, less if under sail in favorable wind conditions.
Approved Anchorages
Approved Anchorages From "100 Magic Miles" 9th Edition
Note: Not all anchorages in the guide are approved for bareboats and many are only suitable for certain wind conditions. Please consult the list below to ensure the anchorage is approved for overnight stays and that conditions are suitable. If in any doubt, check with your radio operator.
Anchorages Suitable for Strong Winds (over 25 Knots)
N.B. These are the only anchorages permitted during a Strong Wind or Gale Warning
Overnight anchorages suitable for winds to 20 knots
No
Name
Map Ref
Anchorage
Note
Wind Protection
1
Double Bay West
N12
1, 2 & 3
E SE S SW W NW
2
Double Bay East
N13
1, 2 & 3
E SE S SW NW
3
Woodwark Bay
N14
1, 2 & 3
E SE S SW W
4
Abell Point Marina
C1
Marina
All weather
5
Airlie Bay
C1
1 & 2
E SE S SW
6
Funnel Bay
C2
1
NE E SE S SW
7
Long Is – Happy Bay
C4
1
Anchor/moorings
NE E SE S SW
8
Long Is – Palm Bay
C4
Mooring only
NE E SE S SW
9
Daydream Is Sunlover Beach
C8
Mooring only
Light winds only
10
Sth Molle Is – Bauer Bay
C9
E SE S SW
11
Nara Inlet
C10b
1 & 3
All weather
12
Macona Inlet
C10a
1
NE E SE S SW
13
Macona Inlet
C10a
2
All weather
14
Stonehaven
C12
2
Anchor/mooring
NE E SE S
15
Blue Pearl Bay
C13b
Moorings only
NE E SE
16
Butterfly/Luncheon Bay
C14/15
Moorings only
NE E SE S SW W NW
17
Maureens Cove
C14/15
Anchor/mooring
E SE S SW
19
Mays Bay
C18
1
E SE S
20
Cid Harbour – Sawmill
C19
1 & 2
NE E SE S SW
21
Cid Hbr – Dugong Inlet
C19
3
NW N NE E SE
22
Gulnare Inlet
C20
1
Enter & leave 2nd
half of rising tide
All weather
23
Hamilton Island
C22
Marina
All weather
24
Turtle Bay
C24
1 2 3 & 4
NW N NE
25
Chance Bay
C25
1 & 2
NW N NE
26
Whitehaven Beach
C26
1
E SE S SW W NW
27
Chalkies Beach
C26
2
Max 6 boats – extra care!
E SE
28
Tongue Bay
C27
1
Anchor/mooring
SE S SW W NW
29
Cateran Bay
C29
1
Anchor/mooring
E SE S SW
30
Windy Bay
C31
3
E SE S SW
31
Lindeman Is – Boatport
S1
3
NE E SE
32
– Gap Beach
S1
5
SE S SW W
33
– Plantation Bay
S2
1
NW N NE E SE S
34
Shaw Island – Neck Bay
S2
2
NE E SE S
35
– West
S3
1
NE E SE S
36
– Burning Pt
S3
3
E SE S SW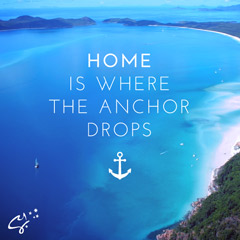 Holiday Guides
Bareboat Sailing Guide
Our Charter Fleet
Things to Do
Note:The information in this anchorage guide is not be be used as a substitute for current navigation charts and information. While we try to keep this information up-to-date and correct, Charter Yachts Australia accepts no responsibility for any errors or omissions.