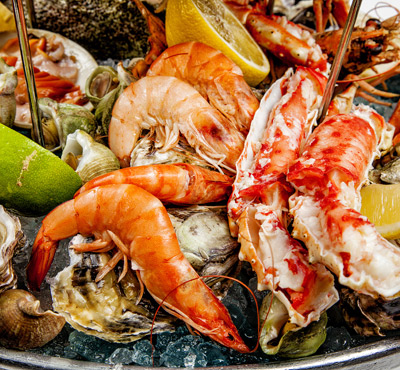 Being out in the islands is great, but it does make it difficult to take a quick trip to the shops to collect extra provisions. Planning and organization are critical to ensuring that your holiday is as enjoyable as it should be.
Here are a few tips if you have not been on a sailing holiday before:
Keep your meals simple, yet delicious
The boat's galley "kitchen" is usually much smaller than the one you have at home. There's certainly no reason you need to eat dried packet noodles all holiday, but you should aim to serve up meals that are easy to prepare and everyone will enjoy: BBQs, cold platters, nibbles and fruit are excellent choices for meals on-board. On the other hand, cooking a roast dinner from scratch may be awkward in the limited space on a boat.
Mind the fridge and freezer space
If you are travelling for 7 days or more you'll need to plan well to make sure you have enough space in the fridge for everything you'll need. In the tropical environment some things that you may be used to keeping at room temperature – like bread – won't last more than a couple of days outside the fridge, so you'll need to allow fridge space for more than you might think!
On top of that, boats typically have much smaller fridge/freezers than you're used to at home, so you should choose your meal ingredients carefully based around your available refrigeration.
All of our boat listings specify how much fridge/freezer space is available in litres. To help you visualise what those litres mean for you, keep in mind that small two-door fridges of the type generally found in city apartments are usually between 250 and 300 litres, mid-size two-door fridges in family homes and some luxury apartments are usually between 350 and 500 Litres, and the largest 'french door' and side-by-side fridge/freezers hold around 600 to 650 litres.
Let someone else do the work
A provisioning service can deliver everything you need to the boat ready for you to set sail. They're experienced at providing everything you need for your trip and they know all the tricks to getting the most delicious, easy to prepare meals out of a boat's kitchen facilities. You can set sail confident that your food won't perish before the end of your holiday and that you'll not have to share your bed with a few dozen eggs that wouldn't fit in the fridge. If you will be chartering a yacht for the first time then we highly recommend using a provisioning service.
Whitsunday Provisioning
A one-stop-shop for ALL your provisioning needs.
Simple 'package plans' to pick and choose from including kids options
Add your favorite extras from their 'supermaket section'
Add a wide range of wines, beers and spirits
Packed and delivered directly to your boat – 365 days a year
30 years experience in stocking boats for charter
Packages start from as little as $33.00 per person
Visit Whitprov.com.au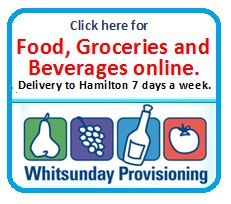 Already Included…
All our charter vessels are provided with: Linen, blankets, pillows, towels, fully equipped galley, crockery, cutlery, expendables (soap, toilet paper, dish-washing liquid, cleaning agents, vinegar, garbage bags, sponge), dinghy with outboard, snorkeling equip, safety gear, navigational aids, gas deck BBQ, 4 hour boat & area brief. Additional sail training available if required.
See individual boat listings for extras on some vessels only, like additional fridge/freezer space.
Spend a night on-board
We can arrange for you to stay on-board your vessel from the night before your departure, this gives you time to unpack, familiarize yourself with everything, and arrange any last minute shopping that you might need – it also saves you the cost of a hotel night and extra transfers.